The Friday Night Party in association with MMH returns for Stonedead Festival 2022 !!!
In 2022 our good friends at MMH Celebrate their 10th anniversary therefore, this is going to be a party to remember!

Below is all the info you need for this incredible event!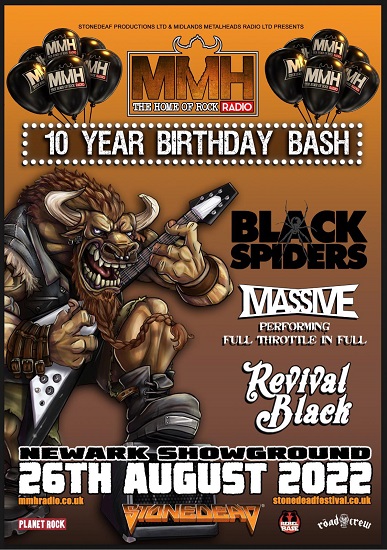 To kick off the Bank Holiday weekend in style, STONEDEAD FESTIVAL in association with MMH RADIO are bringing you one huge Friday Night party, to include 3 awesome bands, DJ sets, competitions and much, much more!

On FRIDAY, 26th AUGUST 2022, NEWARK SHOWGROUND. STONEDEAD FESTIVAL will be helping MMH RADIO celebrate their 10th year anniversary at NEWARK SHOWGROUND

Formed in 2008, this Sheffield based English rock band, described by Metal Hammer Magazine as being able to 'bring the party and they bring it hard' and 'one of the finest live shows on the British circuit' the Black Spiders offer fast paced high-energy, feel-good rock n'roll, contrasted by demonic doom.
With their self-titled album Black Spiders (2021) reaching No 7 in the independent album chart, these are a band to be reckoned with!

Black Spiders are: Pete Spiby (guitar/vocals), Ozzy Lister (guitar/vocals), Adam Irwin (bass), Mark Thomas (guitar) and Wyatt Wendels (drums). This band have a great pedigree having previously played at Download, Hard Rock Hell, iTunes, High Voltage, Sonisphere, Graspop, and Bloodstock festival to name but a few.

We know that FUBS will rule the roost on the Friday night.

Thwarted by coronavirus in 2020 and 2021 we are delighted to bring back Massive Aus to STONEDEAD. This time they will be providing the 'full throttle' experience in full on the Friday night. The hard partying Aussie rock'n'rollers give their absolute best each and every time they take the stage. Drinkin' beers and smashing ears.
Massive are: Brad Marr (vocals, guitar), Ben Laguda (lead guitar, backing vocals), Brenton Kewish (bass) and Andrew Greentree (drums)

Classic sounding hard rock band, Revival Black strike out of the cultural heartland that is Liverpool, England. Kicking us off in style with their own brand of honest rock n roll, drawing upon the classic sound of the 70's with a strong foothold in the modern day, Revival Black have firmly planted themselves within The New Wave of Classic Rock family.
Revival Black are: Dan Byrne (vocals), Alan Rimmer (lead guitar), Adam Kerbache (guitar), Jamie Hayward (bass) and Ash Janes (drums)
With three incredible bands and killer DJ sets from MMH themselves, in celebration of their 10th anniversary ! The Friday night is going to be a fantastic start to this incredible weekend.

Get your tickets before they are sold out!

Access Available To All Campers At Stonedead Festival 2022 & MMH Party Ticket Holders. If you have an arena ticket already and wish to upgrade to camping or buy a MMH Party Pass, head to the tickets page. Upgrades are available for £15 each.
Date – 26th August 2022
Location – Main Arena
Start & End Time – 6:00pm – 11:00pm
Stage Times (Subject to Change):
Gates Open/MMH Music – 18:00
Revival Black – 18:30 – 19:15
MMH DJ – 19:15
Massive – 19:45 – 20:30
MMH DJ – 20:30
Black Spiders – 21:00 – 22:00
MMH Close Show – 22:00
Curfew – 23:00
Entry – Open to All
Capacity – We have 4000 spaces subject to demand
Day tickets – No day tickets are allowed to attend the Friday Night Rock Party without an Upgrade pass, click here to purchase an upgrade pass
Weekend Campers – Those attending the Friday Night Rock Party will only gain access with their camping wristband. Non campers can upgrade with a MMH Supplement available in the ticket store for £15
Under 17 year old's, attending must be accompanied and supervised by an appropriate adult at all times
NO VALID PASS, NO ENTRY
---
Shuttle Buses
Shuttle Buses will be running to and from the venue for the Friday Night Party, details including times, pick up locations and ticket links can be found here
Venue Customer Policy
We expect all of our customers as fellow gig and music lovers to not only respect the venue but to respect each other
Alcohol Policy
Please note we run a Challenge 18 policy, so if you appear to be under the age of 18 please do not be offended if we ask you for ID. If you are fortunate enough to be graced with younger looks then please bring some appropriate ID with you. This policy is not intended to cause you embarrassment but is important for us to ensure we are serving alcohol responsibly, in line with the licensing act.
Conditions of Entry
We reserve the right to conduct security searches on entry and exit of the site. This policy is in place to maintain the safety of our customers and to prevent illegal activity. Anybody found in possession of illegal or contraband goods may be liable for prosecution. Refusal to be searched may lead to ejection and indefinite exclusion from the festival site.
Stonedeaf Productions LTD, Midlands Metalheads Radio LTD & Newark Showground operates a zero-tolerance policy with regards to illegal drugs. Anyone found to be taking or distributing illegal substances will be ejected and potentially reported to the authorities.
Stonedeaf productions, Midlands Metalheads Radio and Newark Showground will not take any responsibility for loss or damages caused